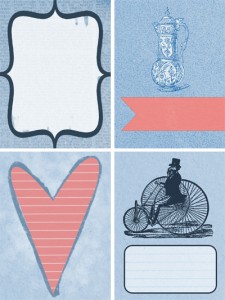 Free printable set of 4 journaling cards measuring 3×4 inches when printed. The blue and coral set includes an old fashion man on a tricycle, heart, decorative blank area and teapot. You may also use the digital files online in your blog or in digi scrapping as well.
Keeping A Journal
If you live a quiet life you may feel as though you have little of general
importance to record. Yet every individual's life is of importance to him, and
everyone should keep a record of the days as they pass by. If you are just beginning a journal, you must not attempt too much, and you must begin in the right way. Do not start with a journal that is regularly laid out with the dates for each day, as the
events from day to day vary so much in importance. It is far better to
begin with a blank book and determine for yourself where and when to write.
Do not try write when there is nothing to say. Some popular topics, should
you encounter writer's block, are the weather, visits paid and received,
money or business transactions, and books that you have read.