All posts in category free vintage images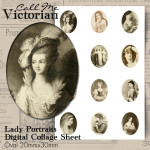 This free printable digital collage sheet features twelve different 1.2″x1.6″(30x40mm) ovals with images of vintage lady portraits.
Posted by victoria on October 24, 2013
http://callmevictorian.com/1378/vintage-lady-portrait-ovals-digital-collage-sheet/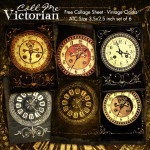 This collage sheet showcases six different antique clocks. These are ATC sized at 3.5×2.5 inches so they can be printed for Artist Trading Card backgrounds.
Posted by victoria on September 26, 2013
http://callmevictorian.com/1319/free-digital-collage-sheet-vintage-clocks-atc-cards/
Free digital collage sheet of real vintage alphabet with decorative flowers and leaf ornaments on each letter. You can print this onto a sheet of 8½ x 11 inch paper. Cut or punch out each square to spell words.
Posted by victoria on August 26, 2013
http://callmevictorian.com/1283/vintage-alphabet-printable-digital-collage-sheet/