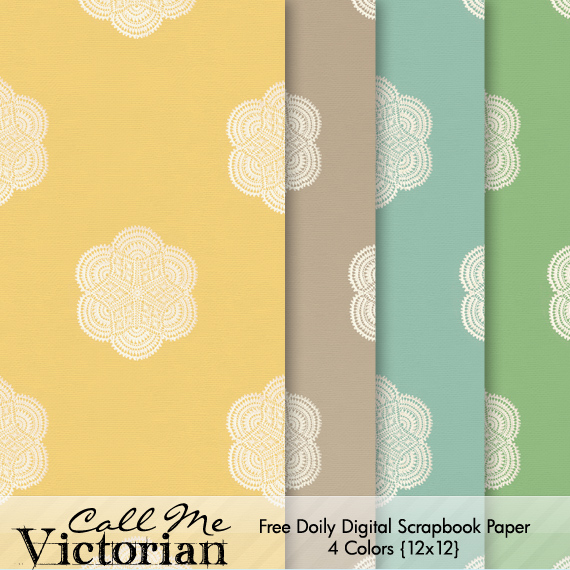 This free set of 12×12 digital scrapbook paper features a beautiful white doily silhouette on a backdrop of four different muted gem tone colors – yellow, beige, blue, and green.
In the days before television and the Internet were around, people had many simpler ways to entertain themselves. One of these was crocheting, the art of making fabric from yarn or other strands of material. Though once associated with grandmothers in rocking chairs, crocheting has stood the test of time and is regaining popularity with younger generations.
Crocheting is often confused with knitting, but the two vary in a number of different ways. Crochet stitches are taller than knitting stitches, and only one is stitch is active at a time. Only one crochet hook is used, as opposed to the two needles that are used for knitting.
A popular crocheting project is the doily, a decorative circle or mat traditionally made from linen or cotton thread. Doilies use a wide stitch that allows the surface on which they are placed to show through, so they can offer protection to a piece of furniture without entirely covering it up. Doily patterns were especially popular in the early 20th century, with patterns often being posted in newspapers and magazines.
The free digital paper can be downloaded via my online album where I store large files, you will be taken do the download page when you select a color below: