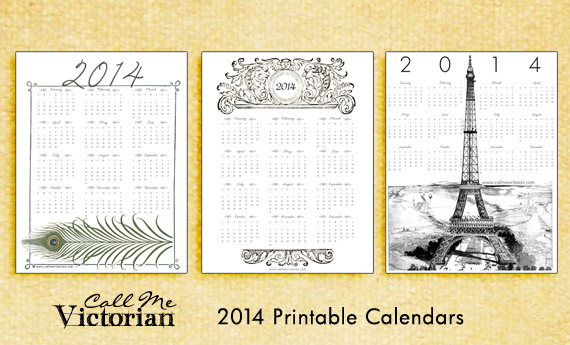 It's that time of year again already for the free printable 2014 calendars. This year you can choose between three different designs.
The Paris Eiffel Tower design is updated again for 2014 for those of you who missed out on it in previous years. An ornate frame in black and white for those that like vintage style borders. And a new Art Deco peacock feather illustration in color. Print onto one sheet of letter size paper for an annual overview. Great for home or office use.
Some info about 2014 :
2014 is written MMXIV in roman numerals.
It is the year of the Horse according to the Chinese New Year.
February has the standard 28 days and there are exactly 365 days in the year which is known as a common year.
Choose your favorite calendar from the images below and click to open a Printable PDF in a new window for easy printing right from your browser: