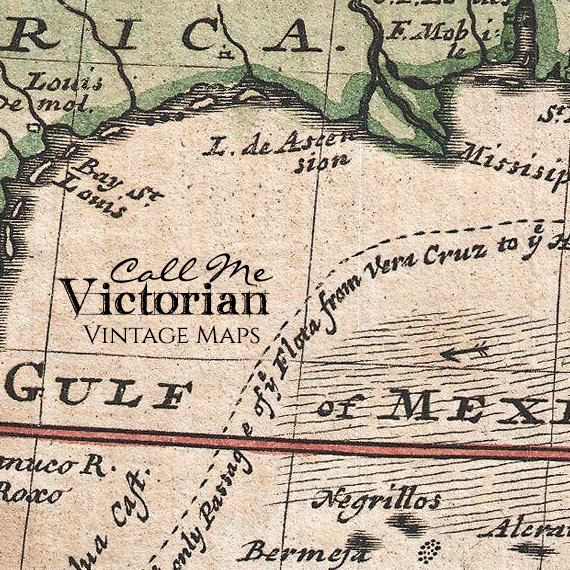 Decorating with vintage maps can add a touch of elegance to any room in your home. They work especially well in office spaces, door rooms, a study, library, or a child's bedroom.
You can hang maps like you would a piece of artwork in a frame. Hang it unframed like a poster print, or have a full wall mural instead of wallpaper. Maps are a classic way to decorate your home office or a theme to use to decorate a business as well. World maps give the impression that a business works internationally in the global marketplace.
Maps can also work in a child's bedroom. Maps are generally very colorful and bright, they can match many themes, but would work particularly well in a pirate themed room. Think "X marks the spot" and a treasure map. Inspire your child to learn world geography with a map poster in the house. I remember when we had a United States map in the kitchen while my daughter was learning the states and she loved to study the map and look at the different cities and places that were listed. Decorating with maps dates back to ancient Rome where detailed regional maps and city plans were displayed in mosaic tile.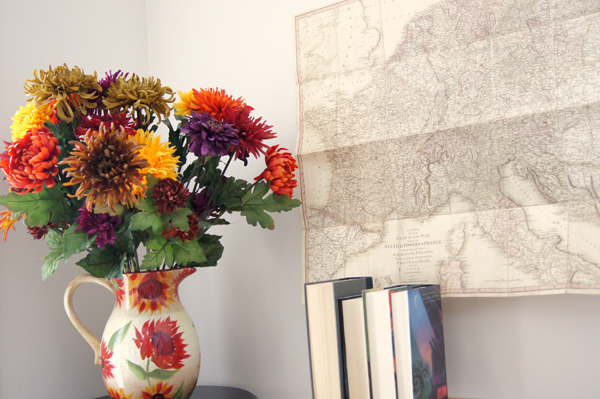 Inspire yourself to travel the world using your imagination and places on the map. There are many different types of decorative maps, including wall murals, decals, posters, art prints, books, globes, map pillows, map wallpaper and more!
Map Hoop Art
A unique way to decorate your walls is with this customizable travel themed hoop art. Embroidered with a special location, such as your home town, state, or a place that has special meaning.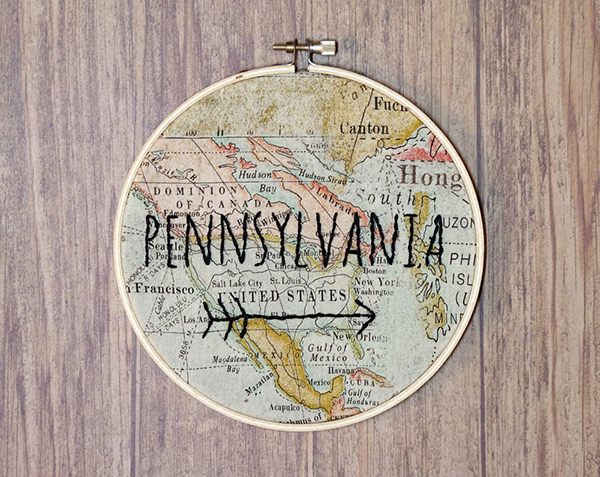 (Photo courtesy of the shop Proper Wolf)
Steampunk Map Wallpaper

This photos is from a steampunk inspired bathroom that uses map wallpaper to add elegance to the walls. You can see the process of this bathroom makeover at this remodeling blog. I love how the map wallpaper dresses up the room.
You will need patience when applying the map wallpaper to make sure you match the seems. Also, because you will have to allow a full section of the pattern before it repeats, you need to order more wallpaper then you actually need. I suggest one full extra roll for a small room (like a bathroom or small bedroom) and you may want to get two extra rolls for a large room (like a living room).
Upcycle Maps as Gift Wrap

An easy way to reuse your old outdated maps is to upcycle them into DIY gift wrap. You may find that you have a lot of old maps around the house that you no longer have a need for since the invention of smart phones and navigation systems. Also, traffic patterns change and new roads are being built all the time, so maps can get outdated. Two easy ways to reuse or "upcycle" your old maps is to use them as gift wrap for presents. The photo shows a small gift and bow that I made out of a map from a brochure. I used the remainder to make a quick bow with a button detail to use later on another present. Any crafts that you can make with regular paper, think about trying to do with maps.
Hang Maps at Work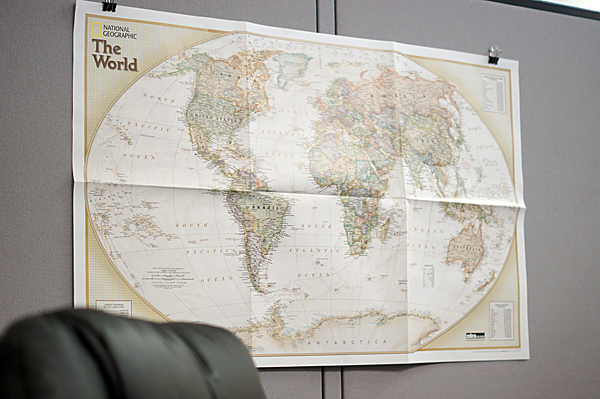 If you are a cubical dweller during the day, you probably get tired of the plain office walls. Hanging a map of the world is a tasteful way to decorate your space and it is work safe artwork that anyone visiting your office area can enjoy. Maps often have interesting statistics, like the one shown in the photo has the top 10 largest cities by population, so you learn something new everyday.
Vintage World Maps
There are many old map images online and in the public domain that you can print yourself to make art for your home.
Here are links to some of my favorites:
I created these Free Printable map gift tags for you to print and cut out.