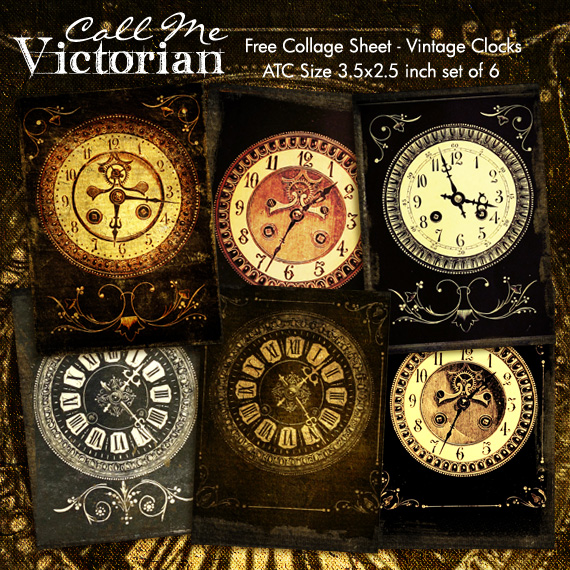 This collage sheet showcases six different antique clocks. These are ATC sized at 3.5×2.5 inches so they can be printed for Artist Trading Card backgrounds.
The images contain a mixture of roman numerals faces and the standard numeric digits. These are typical of pocket watches and antique cathedral clocks. These distressed and grunge style graphics are perfectly suited for all your steampunk scrapbook needs.
The first mechanical clocks are thought to have been introduced in the late 1100s. Before this, the most reliable timekeeping devices were sundials, candle clocks, hourglasses, and water clocks. Throughout history, clock collecting has often been a royal hobby. Some of the most fascinating monarchs have been known clock collectors: Louis XIV, Louis XVI, Queen Victoria, and King Edward VII to name a few. Henry VIII even gifted a clock to Anne Boleyn on their wedding day.
Perhaps you are looking for a specific time to incorporate into your project? The clocks in this download are set to 6:17, 1:34, 3:57, and 1:24. All six clocks feature a vintage filigree border, giving them an aged Victorian flair. Many of the clock faces have visible gears. Print them out and cut them up – or just use the back as a journal card.
Full Size Image Preview:
Printable digital collage sheet – Each image is ATC / ACEO sized at 3.5×2.5 inches: