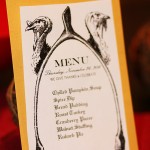 Decorate your Thanksgiving dinner table with these free printable Thanksgiving menu cards & Vintage Thanksgiving clipart to make diy table favors. Two vintage turkey menu cards and two "Thanksgiving" banner clipart that you can download and print or use in card making.
Create your own menu place cards or use for thanksgiving invitations. I added the text of a delicious Thanksgiving menu inside the vintage images and they look perfect!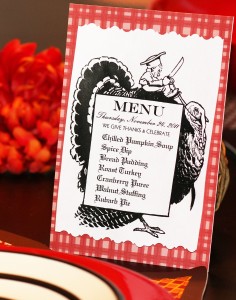 Do you wonder how Thanksgiving dinner was celebrated in 1905, read a vintage Victorian article on decorating your table :
Putting The Table Favors To Novel And Attractive Uses
The time-honored symbols for Thanksgiving table-favors – in fact, the chief substances themselves – are the turkey and the pumpkin. These are imitated in a manner of ways, and in a manner of sizes, in papier-mâché, wax, and common paper.
The turkey as a decoration for a Thanksgiving table centerpiece is quite attractive. Four large turkeys, about seven inches in height, are grouped in the center, tail to tail, with seasonal flowers, ferns, and vegetables clustered around them. Small pumpkin favors, holding salted nuts, add bright bits of color when placed at intervals around the table.
When paired with a candy dish made to imitate half a grapefruit (with the fruit forming the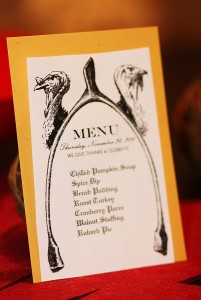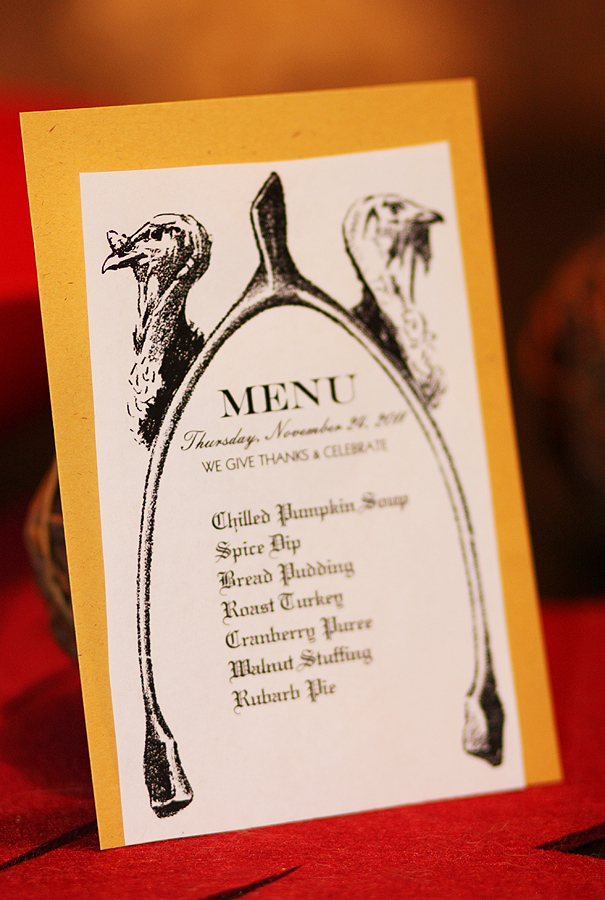 lid), a grapefruit salad can be used in a most novel way. Place a small piece of fancy tissue paper inside the dish, followed by a lettuce leaf with the grapefruit salad on top. Put the lid on the candy dish and place the whole thing on a small dish of lettuce leaves. Lemon dressing makes a good addition to the salad. To make the lemon salad dressing, just mix lemon juice, salt, paprika, and olive oil.
Wax fruit and vegetable imitations are a perfect addition to the Thanksgiving banquet spread. Tiny party favors in the shape of pies (lemon meringue, pumpkin, apple, and others) as well as various other foods (apples, peaches, grapes, potatoes, oysters, clams, lobsters, pears, bananas, and oranges) are complement the Thanksgiving table. Clams and oysters are especially well suited due to the traditional association of shellfish with turkey. These favors can be filled with any variety of candies and salted nuts. Favors fashioned after other foods such as salad leaves, fruits, vegetables, and even roasted turkeys, can also be used to hold these candies and nuts.
There are a variety of options available for displaying ice and ice cream. Even a simple ice case can be placed in a festive cardboard turkey or pumpkin. Other, more elaborate ice cases formed to mimic roses, chrysanthemums, and other flowers are also available.
Baskets of every conceivable design are also a good display choice for adding beauty and brightness to the Thanksgiving display. They are not only decorative, but also functional when used to hold items for the feast.
Another unique idea is to add a scatter of small turkeys, none over an inch and a half high, around the table. These tiny turkeys can be placed on the table at intervals as small spirits haunting this scene of plenty, observing the funeral rites of their larger counterparts.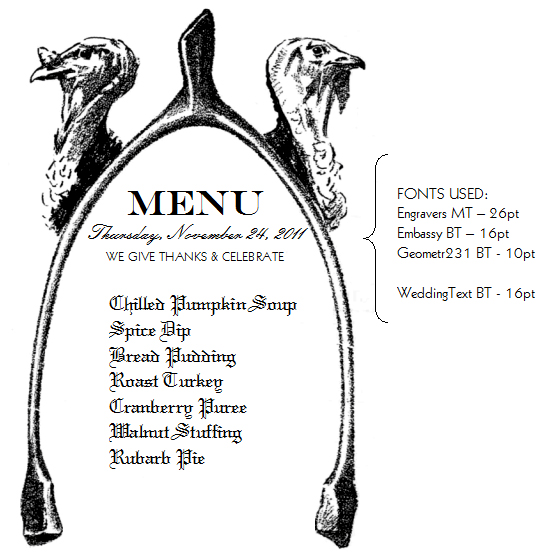 Free Printable Thanksgiving Menu Card & Vintage Clipart 300 DPI JPG – Click on the file to load the full sized image and then save it to your computer.