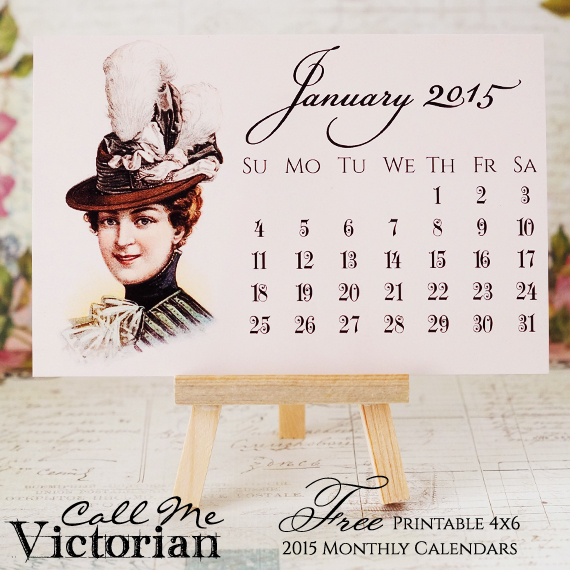 A free set of 12 monthly printable mini desk calendars featuring beautiful Victorian ladies.
December is finally here and you know what that means!  The new year will soon be upon us. To prepare you for 2015, I've created 12 printable calendars for the new year – one whole calendar for each month.  They are 4×6 inches, the perfect size to sit on a mini easel when printed.  Display it on your desk to add a touch of class to each and every day throughout the year.  Each month features a full color illustration of a Victorian lady in a fancy hat.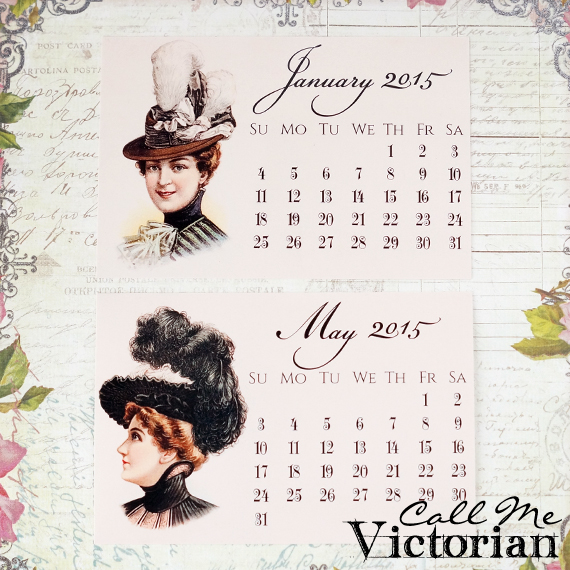 Print these onto 4×6 photo paper as borderless prints. Hang on your wall, use a mini wooden easel for desktop display or post to a bulletin board.
You can also use the pictures as computer wallpaper backgrounds as well.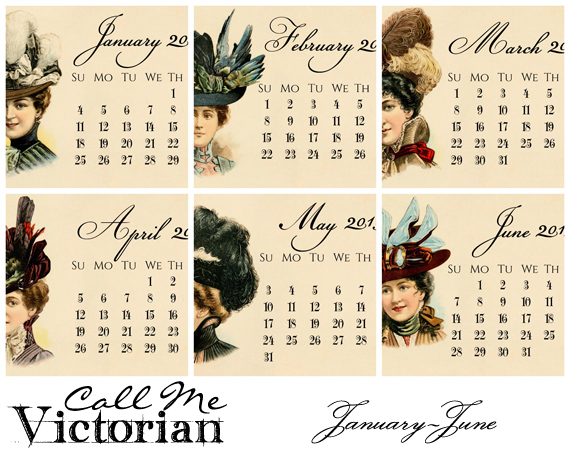 January's lady wears a hat with beautiful plumes of white feathers.  Her dress has black and green stripes.
February's lady has a deep blue hat with full green and blue bird wings.  Her dress is grey and pink.
March's lady wears a brown velvet hat with brown and beige feathers.  Her dress is light brown and is fastened with a bright red ribbon.
April's lady has a dark purple hat with an entire bird arranged in an elegant pose.  Her dress is purple with a lace collar.
May's lady is done up entirely in black feathers and lace.
June's lady has a burgundy hat with light blue and dark red velvet ribbon.  They are fastened with a large brass buckle.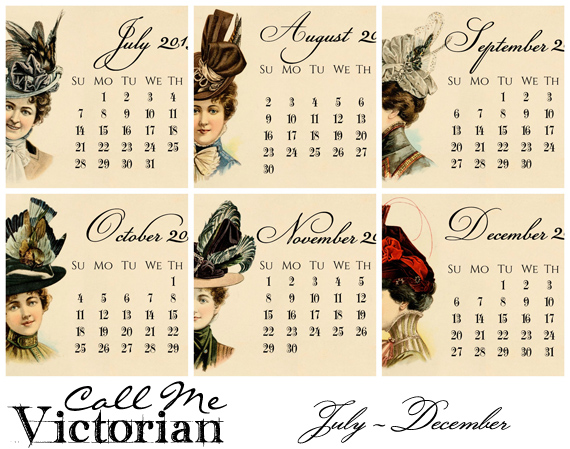 July's lady has a light blue grey hat with a darker blue grey bow and brown bird wings as decoration. Her dress is beige with a white ribbon at the throat.
August's lady wears a brown hat with brown and beige ribbon. A few pearls add a bit of visual interest to the arrangement.
September's lady has a grey hat with lacy grey feathers and a jeweled brooch. Her dress is black with orange and yellow ribbon accents.
October's lady wears a black hat with a brown and grey bird affixed to the top. Her dress is yellow and green.
November's lady has a light pink hat with a deep purple velvet and dark green feather arrangement.  A large jeweled buckle keeps everything in place.
December's lady wears a dark red velvet hat with drapes of bright red fabric.  Her dress as light green and beige stripes and a pink bow on its high collar.