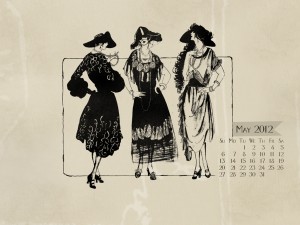 Inspired by Downton Abbey Season 2 fashions, here is the May 2012 desktop calendar wallpaper background.
Do you have an upcoming spring garden party to attend, read this fashion advice from the early 1920's on what to wear to your event. With spring roses come spring weddings. With spring days in May come garden parties. Those delightful out-of-door fetes are among the most pleasant events of the springtime. But the pleasure is less if the memories of them carry recollections that we were not becomingly dressed. The consciousness of being unsuitably gowned has often marred the pleasure of an otherwise perfect occasion.
Since those who participate in a garden party do so under the searching light of the spring sun, it behooves everyone to see that her costume is as fresh as the rose leaves themselves. It is possible to wear a slightly crushed dinner gown or a not quite spotless dancing frock without general detection of the blemishes. But the radiant eye of the spring sun is an all-seeing one. The gown must be immaculate. It must be able to defy an X-ray itself.
In colors there is a wide variety. Personally I prefer gowns that rival the flowers in the variety of their hues, or white, as pure as the lilies themselves. Nevertheless, I do not stand rigidly against an overwhelming trend of taste. At present there is an inclination to dark colors for garden fetes. Black itself is now and then seen beneath the rays of the spring sun on a lawn or veranda.
The garden party gown in its recent form may be made of made of lightweight organdy. Low-cut necklines, three-quarter length sleeves are favored in 1920's fashion. Gathering or tucked folds help to break up what would otherwise be a severely plain skirt. Embroidery, pointed cuffs, and lace edging help to make each gown distinct. Many varieties of hats can be worn with these spring fashions and dressed up with ribbons or a wreath of flowers.
The garden party gowns at the end of Downton Abbey Season 1 are still ankle length muslin or linen dresses with Lady Sybil wearing a floral print, Lady Mary in a blue and white stripe dress and Lady Edith wearing a white ensemble.
View the May 2012 Calendar Wallpaper in your screen resolution:
1000×625 | 1024×768 | 1280×800 | 1440×900 | 1920×1080 | 2560×1440