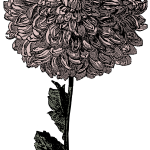 In this free Victorian clipart post, the first image is a colorized version of a chrysanthemum flower, you can also download the original black and white line drawing too. Both as transparent PNG files.
Next a small pocket watch image. This pocketwatch was the most reliable timekeeper with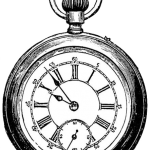 horizontal movement and the cheapest of it's time costing 5 Guineas around 1870's. Also, check out this free digital scrapbooking paper featuring pocket watch images!