Free round social media icon set featuring distressed burlap vintage look for popular websites and bookmarking links that you can use on your website or blog.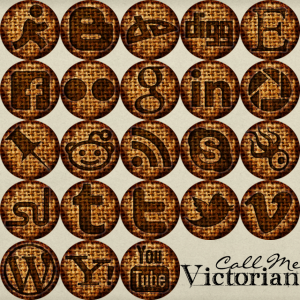 I was inspired by burlap and jute bags, the fabric has a great natural distressed look to it which gives it a great vintage feeling without it needing to age. I've been wanting to create a set of social icons as a freebie, so this is the end result. The icons are in three sizes 128×128, 64×64, 32×32 and there are 23 total icons in the set for the following social media, web 2.0, bookmarking and social sites: aim, blogger, deviantart, digg, etsy, facebook, flickr, google, linkedin, picasa, pinterest, reddit, rss, skype, squidoo, stumbleupon, tumblr, twitter x2, vimeo and wordpress.
All icons are created as transparent PNG images and you may use them on your website or blog, personal or commercial, however you would like!
Download the free social media icons!
Don't forget to share this post on your favorite social sites!