Welcome to Call Me Victorian! This site shares free vintage inspired printables, clipart, images, wallpaper and digital scrapbook ephemera. Are you truly a Victorian Lady at heart? Glimpse into a bygone era and add some Victorian style to your life.
All posts for the month December, 2012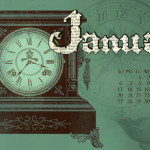 The start of a new year, this free desktop calendar wallpaper for January 2013 features a vintage clock theme.
Posted by victoria on December 30, 2012
http://callmevictorian.com/1089/january-2013-desktop-calendar-wallpaper/