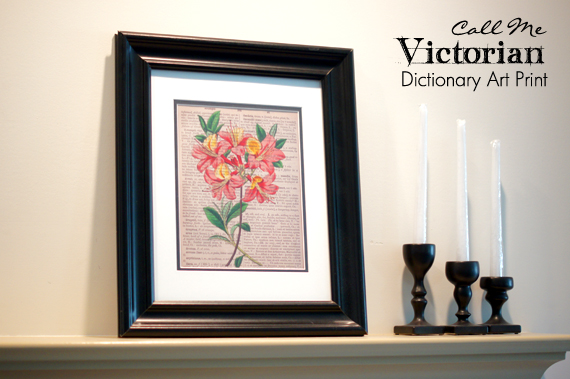 Free printable dictionary book page to create your own vintage wall art. Print onto 8×10 photo paper, frame and hang your vintage flower illustration in your home.
I've loved these vintage dictionary illustrations for years, ever since the first time I saw them, and I've always wanted one for my home.  Prints are a cheap and easy way to add a classic vintage touch to any home's decor. I framed this with a $10 matted frame that I got on sale from a local craft store. I've seen these unique art pieces made with a variety of subjects, from plants and animals to sea creatures or vintage automobiles. I superimposed the vintage illustration onto a Latin dictionary page for a custom printable creation.
The flowers in the picture are copper colored Highclere Azalea from a hand drawn 1830's illustration.  Azaleas are a widespread flowering shrubs that bloom in the early spring. Known as siangish shu, or "thinking of home bush", in China, this plant is also a symbol of the Brazilian city of Sao Paulo. The azalea is a highly toxic plant – the leaves, nectar, and even the honey made from azalea nectar is toxic. This toxicity is so well known, in fact, that receiving a bouquet of azaleas in a black vase was once seen to be a death threat! lol!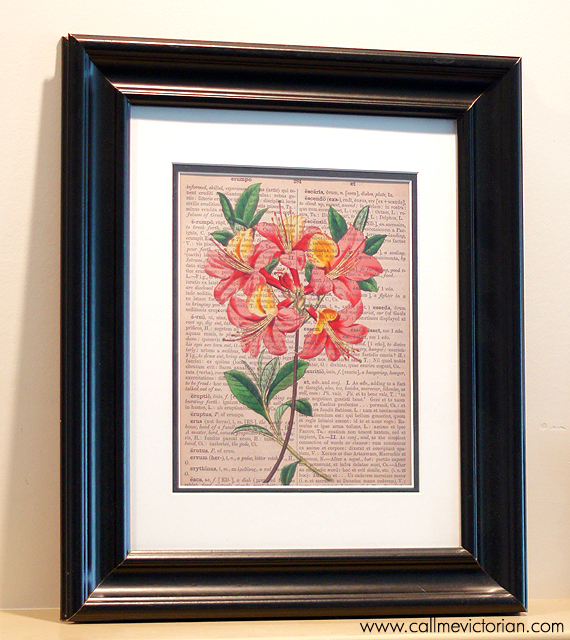 I printed mine on my home inkjet printer onto a standard sheet of photo paper and was overjoyed at how good it came out!
Print your own dictionary art print with the PDF that I've created: