Hats were a prominent fashion accessory for many decades.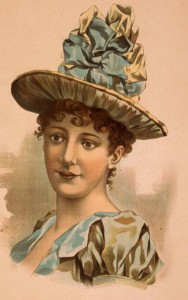 Rules for wearing hats to flatter your face, figure and dress:
Very short women should not wear a very tall or wide hat because the hat will exaggerate their diminutive frame.
Women with thin faces should avoid plumes of feathers in their hats and too many decorations due to the fact that it will overshadow the face.
Gentlemen should wear their hat straight and squarely upon the head.
Ladies should wear a bonnet to a summer lawn party.
A grey veil should never be worn by a pale or sallow complexion.
A style of hat popular in the 1920's cloche hats were the fashion trend.