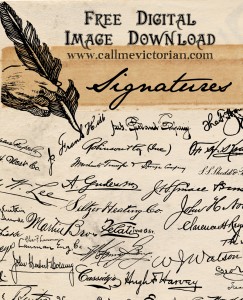 This free collection of old fashioned script handwritten signatures can be used in your creative work. Use as a background or add as a decorative embellishment to digital designs.
You can freely download a high resolution transparent PNG image file that contains the autographs of many real people from 1905.
I love these beautifully written by hand autographs and business names from over 100 years ago. Handwriting was so much more flamboyant and stylish then it is today. Vintage typography is one of my favorite thing to collect and I was thrilled to find this collection of hand writing samples. You can click on the image below to view the full sized transparent PNG download that you may save and use freely. The only limitation is that I ask that the file itself not be redistributed.
Free Signatures – (file will open in new window, you may then save the file)


Full size file dimensions: 4488 x 3188 pixels
File type: PNG